Co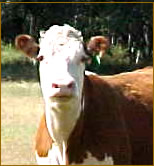 rown Ranches, in Bee County, Texas, was founded in 1924 and has a long history of producing quality Herefords and Hereford-Brahman F-1s. Recently, in order to maintain our forward-looking approach to the beef business, we have changed our F-1 operation to focus on Hereford-Akaushi and Red Angus-Akaushi F-1s. We believe this new F-1 program, as designed by the American Akaushi Association (AAA), will revolutionize the beef industry in the next 10 years by providing a dependable and consistent supply of highly marbled, tender, and very favorable beef, which is so highly demanded by beef purveyors today. Prices paid for these F-1's, which are marketed by the AAA, is now returning a significant premium to the AAA producers in percentages not seen before in the beef industry.
Registered Hereford Cows: We maintain a Base Herd of about 100 registered cows that Ed Brown started in 1945. Heifers are retained for replacement heifers, which are first bred to Akaushi bulls, a breed that is known to have small calves at birth. Our Hereford bulls sell at private treaty. Although it is somewhat unusual to have Hereford cows this far south, these Hereford cattle have so many generations of breeding behind them that they have a certain amount of heat tolerance built in. Our cows are rugged, brush-raised Herefords and work very well in our Akaushi F-1 program.
Akaushi Cattle:
For the past several years, we have been chosen as the "bull development center" by HeartBrand Beef, Inc. of Yoakum, Texas, for their Akaushi bulls (www.heartbrandbeef.com). HeartBrand is the sole owner of the only herd of full-blood Japanese Akaushi cattle outside of Japan. This breed of cattle was developed through decades of specialized breeding by Japanese farmers and is recognized today as a Japanese National Treasure. The Akaushi breed produces an exceptionally highly-marbled beef, which demands a premium price in fine-dining establishments throughout the world. HeartBrand Beef, in an effort to play a major role in the enhancement of the US beef's tenderness and nutritional value, has formed the American Akaushi Association.
Together with their selected partners, HeartBrand Beef is actively mating Akaushi bulls with traditional European, English, and US beef cattle breeds to provide a constant and consistent source of high-quality beef for the American consumer through it's F-1 breed-up program. Brown Ranches, being a founding member of the American Akaushi Association, is using Akaushi blood to produce F-1s from our Hereford and Red Angus mother cows. This is a very exciting enterprise and one that is providing not only high-quality beef for the consumer but also a much better income stream for us as cow-calf producers.
Commercial Herefords: For over 25 years, we have purchased big, growthy, Hereford heifers from Nebraska, Oregon, South Dakota, Wyoming, Montana, and Idaho. These cows are now bred to Akaushi bulls to produce the best F-1 beef producing calves in Texas. These calves come in the spring and are weaned in the fall. The Akaushi F-1 heifer calves are retained for our own breed-up program and the steers are retained through the feedlot, where the meat is marketed by the AAA, purveyed by Eddy Packing Company, Inc. of Yoakum, Texas, and sent all over the world.
Red Angus: This breed is believed to be the best cross for the Akaushi breed. The high marbling trait of the Akaushi combined with the ruggedness of the Red Angus makes for the perfect match when producing F-1s. We are very excited about this new venture and have imported Red Angus heifers from other parts of the country for this purpose.